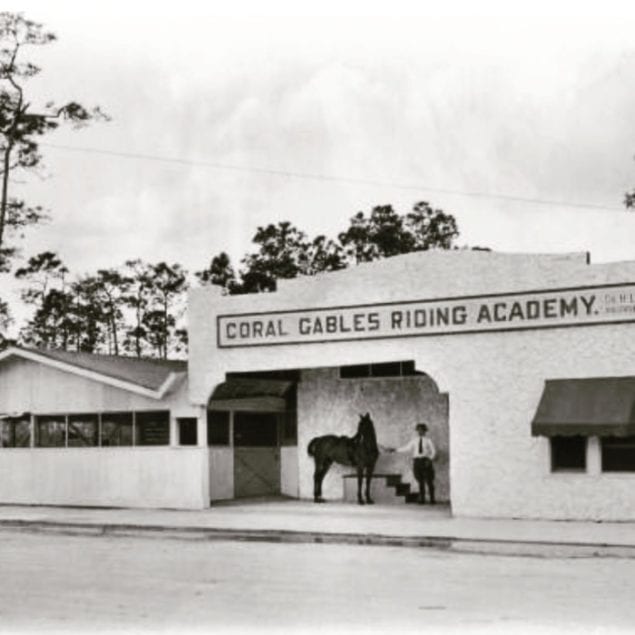 Did you know that back in the 1930s there was a horse riding academy complete with a stable and a show ring that brought the beauty of horses to Downtown Coral Gables?
The City of Coral Gables and the Historic Preservation Association of Coral Gables are joining efforts to unveil the Coral Gables Riding Academy & Show Ring historical marker on the 65th anniversary of its closing.
The free event takes place on Tuesday, June 6, 11 a.m., at 2320 Salzedo St., in front of Ruth Chris Steakhouse.
From 1930 to 1952, the Gazlay family managed the Coral Gables Riding Academy, bringing the beauty of horses and the excitement of horse shows to Coral Gables residents. The Academy played an important role in the local equestrian community and offered breakfast rides on Sundays which were very popular.
Some horses at the Coral Gables Academy were well known. Silver, a pure white Arabian stallion, famous as the mount of the Lone Ranger in the movies, was the star at local events and parades. Silver was shod in special rubber shoes to provide for surer footing on pavement.
The Academy's Sunday breakfast rides were a weekly social event during the 1930s and 1940s. The rides wound through the Gables' trails.
When the riders reached "open country," now the Riviera section of Coral Gables, they ate breakfast under the trees.
The Coral Gables Riding Academy included an office, stable, and show ring. The original Gables location was on leased ground and moved outside Coral Gables in 1952.
Source: www.communitynewspapers.com